Stratospheric modulation of Arctic Oscillation extremes as represented by extended-range ensemble forecasts
15.11.2022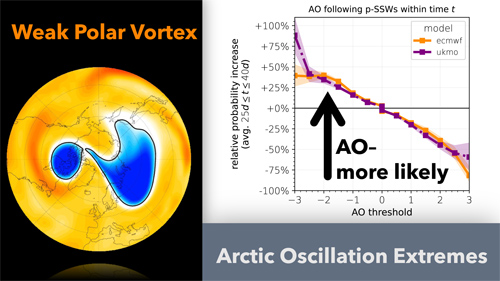 Image credit: Annie Nyle and Marcus Woodbridge on unsplash.com
The stratospheric polar vortex is a strong cyclonic jet that forms every winter around the polar cap. It is known that large disruptions of the vortex, called sudden stratospheric warmings (SSWs), can also affect subsequent weather at the surface. In this study, we examine how often tropospheric extremes are attributable to preceding stratospheric extremes.
First, we boost the available sample size of SSWs: Instead of focusing on events that occurred in the real atmosphere (approximately 30 events since satellite coverage), we analyze events that are predicted in subseasonal-to-seasonal ensemble forecasts (approximately ten thousand events).
Second, we compute statistical measures such as the fraction of attributable risk: We find that about one quarter of large-scale weather extremes during winter may be attributable to preceding SSWs.
Spaeth, J. and Birner, T.: Stratospheric modulation of Arctic Oscillation extremes as represented by extended-range ensemble forecasts, Weather Clim. Dynam., 3, 883–903, https://doi.org/10.5194/wcd-3-883-2022, 2022.