We celebrate the 100'th anniversary of the Meteorological Institute Munich!
30.03.2023
On 1st of April the first Chair of Meteorology at LMU exists for exactly 100 years. It has been celebrated with an academical afternoon in the "Kleine Aula" of the LMU main building on Thursday 30.3.2023 (programme - German language).
Below you can see the founding document, the certificate of appointment of Prof. August Schmauß as "ordentlicher Professor für Meteorologie" and this way the beginning of incorporation of the atmospheric physics and meteorology into the natural sciences at Ludwigs-Maximilians-Universität München.
Al large part of the faculty confirmed with their signatures - among them the 93 year old doyen Ludwig Radlkofer (1829-1927; former director of Botanical Garden), the Nobel Price winners Wilhelm Wien (1911 for physics; 1864-1928) and Richard Willstätter (1915 for chemistry; 1872-1942), the theoretical physicists Arnold Sommerfeld (1868-1951), the geographer and polar explorer Erich von Drygalski (1865-1949), as well as the mathematicians Aurel Voss (1845-1931), Alfred Pringsheim (1850-1941), Ferdinand Lindemann (1852-1939) und Oskar Perron (1880-1975).
The portraits from left to right show August Schmauß and his successors on the exact position until 2008: Rudolf Geiger (as of 1948), Fritz Möller (1960), Gustav Hofmann (1972), Roger K. Smith (1988 until 2008). The 6'th chairholder of this position today is Prof. Bernhard Mayer. To the modern-day Meteorological Institute belongs the Chair of Theoretical Meteorology of George Craig, dating back to the foundation of an "Institut für Theoretische Meteorologie" in the 60's, as well as the Chair of Atmospheric Physics of Markus Rapp, established in cooperation with the Deutsches Zentrum für Luft- und Raumfahrt at Oberpfaffenhofen. More information on the institute history can be found in German language here.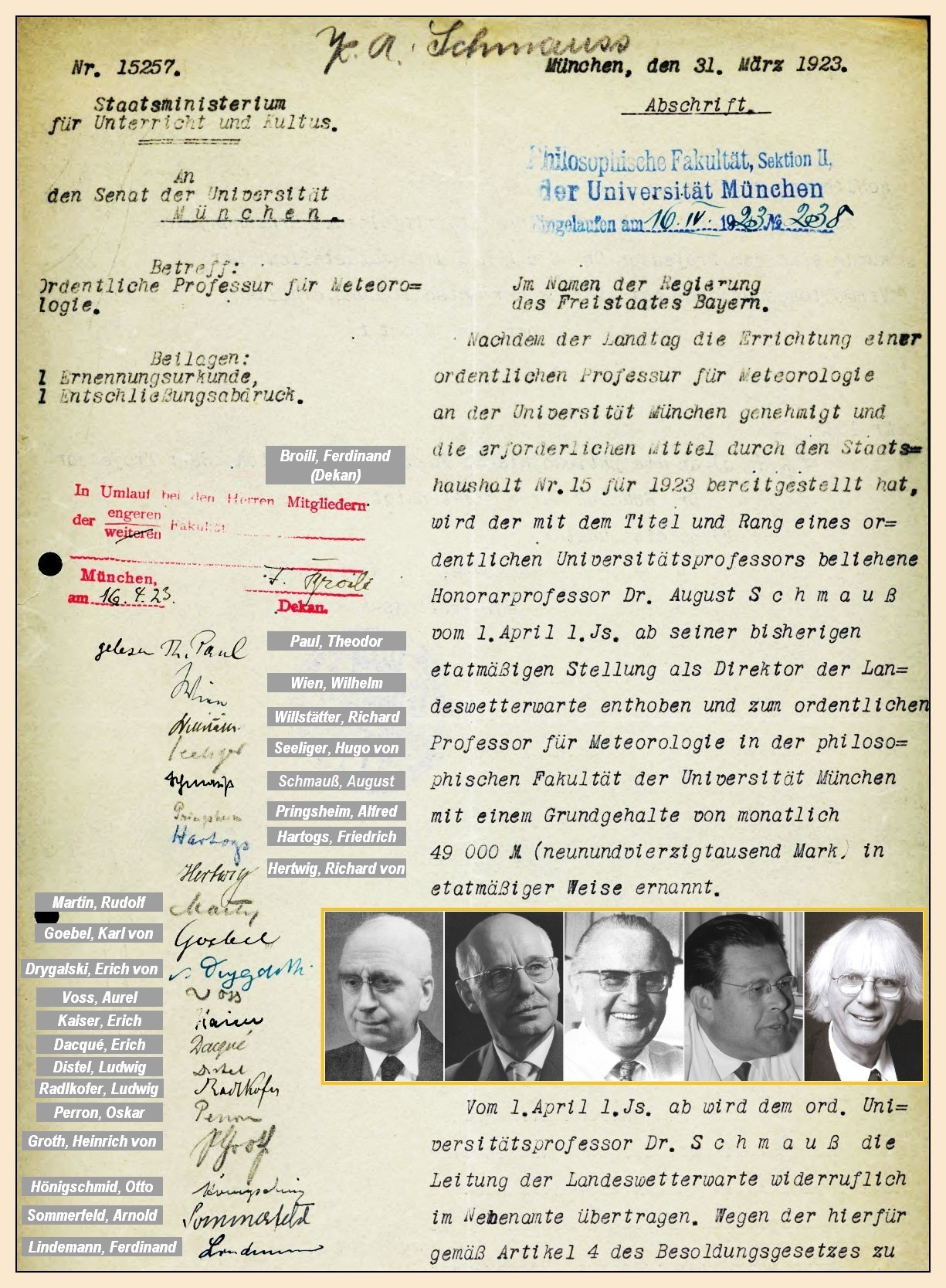 (Source: Universitätsarchiv München, Personalakt Schmauss, Signatur E-II-2975)