Wildfires measurement campaign
27.08.2018
Wildfires are a natural part of various ecosystems around the world. Even in pre-industrial times those fires, mostly ignited by lightning, contributed to the rejuventation of vegetation and fertilization of soils. More recently, fires caused by human activity have increased and are, in regions like the United States of America, the foremost reason for wildfires.
Smoke from wildfires can cover large areas and affect hundreds of thousands of people. Trace gases and particles in the fire plumes are the second largest source of reactive carbon globally - right after emissions from vegetation and oceans, and larger than the total of all man-made emissions. Thereby, wildfires can crucially impact air quality and climate. Unfortunatly, exact numbers on emission strengths and a clear understanding of the chemical processes happening within wildfire plumes is lacking so far.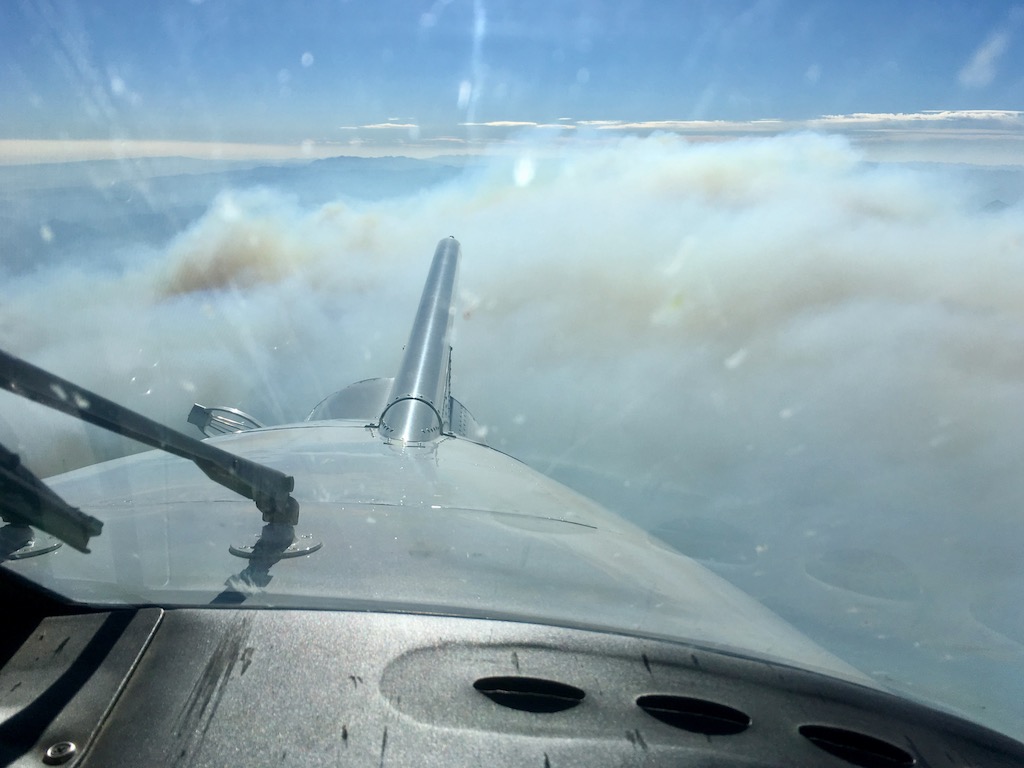 Hence, the large wildfires occuring every year in California and the whole northwestern United States have been the target of the BB-FLUX measurement campaign led by Prof. Rainer Volkamer (CU Boulder, USA). Dr. Christoph Knote of the Meteorological Institute was part of the team and responsible for forecasting and flight planning. He has also been mission scientist on several research flights, during one of which the picture above was taken, showing the aircraft approaching the Sharps Fire.
Measurements have been taken aboard the University of Wyoming King Air, a two propeller aircraft equipped with a number of instruments to measure particle counts, trace gas concentrations, column concentrations of trace gases and further variables.

For these measurements it was necessary to dive below the plume downwind of the fire so that the full column above the plane could be observed. Smoke from the fires was so thick that even at the edges the sun could only be seen as a faint red dot.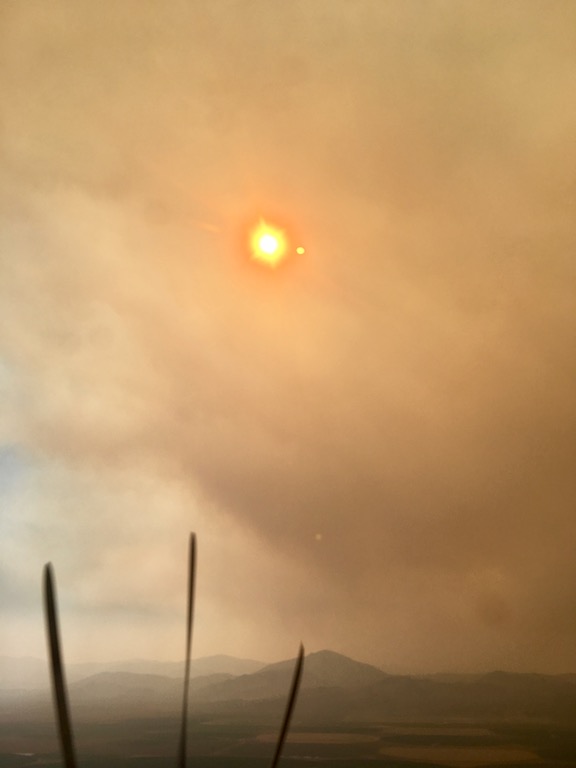 The BB-FLUX measurement campaign began in July and will wrap up beginning of September. Its goal is to determine emission fluxes of specific air constituents from fires in different ecosystems and investigate chemical conversions during plume transport. You can watch the progress of the campaign on the website of the WE-CAN campaign which takes place at the same time and is closely coordinated with BB-FLUX.