High Predictability of heavy precipitation during cyclone Sanchez (NAWDEX)
23.12.2020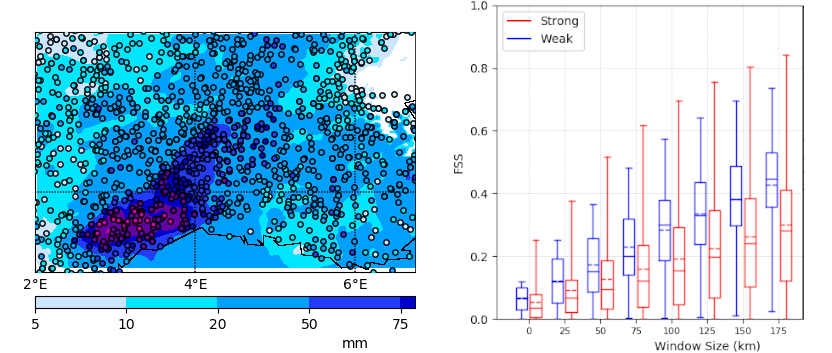 High Predictability of heavy precipitation during cyclone Sanchez (NAWDEX)
During strong synoptic control, which dominates the weather on 80 % of the days in the 2-month
period in autumn 2012 (HyMeX-SOP1), the domain-integrated precipitation predictability assessed
with the normalized ensemble standard deviation is above average, the wet bias is smaller and
the forecast quality is generally better. In contrast, the spatial forecast quality of the most intense
precipitation in the afternoon, as quantified with its 95th percentile, is superior during weakly forced
synoptic regimes.
Reference: Keil, C., Chabert, L., Nuissier, O., and Raynaud, L.:
Dependence of predictability of precipitation in the northwestern
Mediterranean coastal region on the strength of synoptic control,
Atmos. Chem. Phys., 20, 15851–15865,
https://doi.org/10.5194/acp-20-15851-2020, 2020.